Finance
Finace Module act as the center point of all the modules available with Microsoft ERP – Business Central or Navision. Following image shows the Finance module explored format in Business Central product.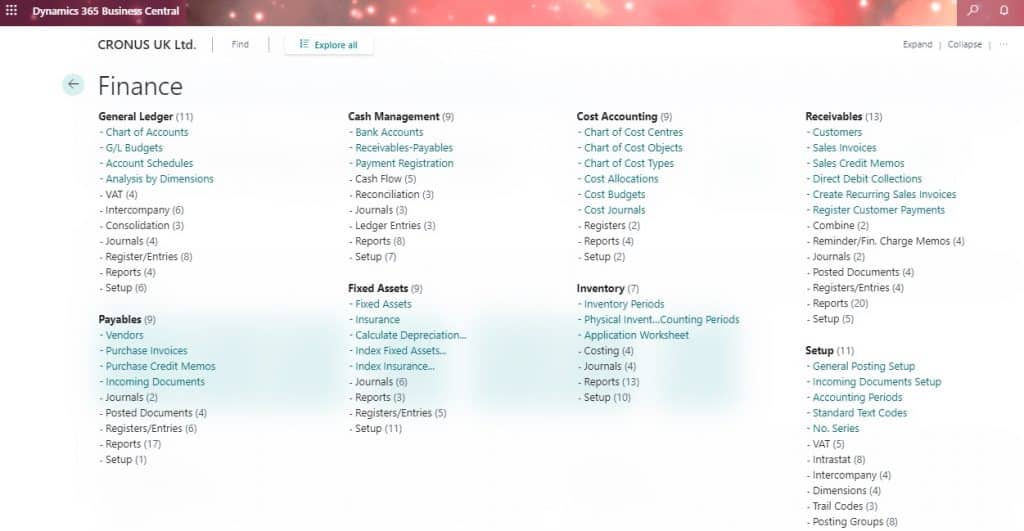 As you can see, Microsoft adopted all the features available with older version and added new functionality as and when released. As a result right now its having lots features.
Finance module helps us to work systematically and carry out actions in such a way that what all works going through Business Central / Navision will directly or indirectly reflects in this module.That means we can take a simple example of purchasing of raw materials.We will raise a purchase order for the material and according to our needs and the vendor will deliver the goods.Will accepts the goods by raising a GRN ( Goods Receipt Note ). Finally we have to pay the vendor who provide us with the goods. For that the next step is to raise a purchase invoice, where the value gets updated in our books and the vendor book. By looking these two details we can come to a conclusion that how much goods are bought each time and what payment we have to return for the same. Taking all these things into aspect only we are calculating our company's or organizations Profit / Loss.
Business Central / NAV / Navision deals with this in most effective way. Any company or Organizations can relay on Microsoft Dyanamics NAV(Navision).It can be described as a complete ERP kit for any firm.
As you can see the abow picture there are basically 8 sub modules available under finance module.
General Ledger
Cash Management
Cost Accounting
Payables
Receivables
Fixed Asset
Inventory
Setup
General Ledger
General ledger sub module act as the core module to handles the accounts. According to Finance / accountancy language there are key points like accounts, credit amounts, and debit amounts. This language is managed through accounting principle (GAAP). Business Central / Dynamics NAV ( Navision) has implemented these rules using posting groups available built in so the system can translate everything to an accounting language and
post it to the general ledger entries ( G/L Entries ) automatically.
Under general ledger sub module further divided in to 11 sub modules / functionalities.
Chart Of Accounts
G/L Budgets
Account Schedules
Analysis by Dimensions
VAT
Intercompany
Consolidation
Journals
Register / Entries
Reports
Setup
Cash Management
This sub module is used for handling Companies Bank Accounts. Also used to handle payments received from customers, payments to vendors, and bank reconciliation.
Following are the sub modules available with Cash Management
Bank Accounts
Receivables-Payables
Payment Registration
Cash Flow
Reconciliation
Journals
Ledger Entries
Reports
Setup
Cost Accounting
Cost accounting can help you understand the costs of running a business.
In cost accounting, you allocate actual and budgeted costs of operations, departments, products, and projects to analyse the profitability of your company.
Following sub modules available on Cost Accounting.
Chart of Cost Centers
Chart of Cost Objects
Chart of Cost Types
Cost Allocations
Cost Budgets
Cost Journals
Registers
Reports
Setup
Payables
Payable module is used to handle all the Vendors , Purchase transaction Payments , Inter company Process Incoming documents, Registers , Payable Journals and more.
Following are the sub modules available with Payables module
Vendors
Purchase Invoices
Purchase Credit Memos
Incoming Documents
Journals
Posted Documents
Registers / Entries
Reports
Setup
Receivables
Receivables module used to handle anything related to Customers Cash transactions, Fin. Charge Memos, Receivables Journals and more.
Following are sub modules
Customers
Sales Invoices
Sales Credit Memos
Direct Debit Collections
Create Recurring Sales Invoices
Register Customer Payments
Combine
Reminder / Fin. Charge Memos
Journals
Posted Documents
Registers / Entries
Reports
Setup
Fixed Asset
The Fixed Assets functionality is used to manage a company's assets, their cost and depreciation, and also it's related to maintenance and insurances.
Fixed Assets
Insurance
Calculate Depreciation
Index Fixed Assets
Index Insurance
Journals
Reports
Registers / Entries
Setup
Inventory
Inventory Module handles everything related to Inventory periods creation, physical Inventory, Application worksheet , costing and more.
Following are the list of sub-modules exist under this
Inventory Periods
Open Physical Inventory Counting Periods
Application Worksheet
Costing
Journals
Reports
Setup