Business Central 2019 Wave 2 Latest Features
Microsoft Dynamics 365 Business Central latest version October 2019 called as Business Central Wave 2.
While exploring all new version I have found several cool features that I would like share you all through my Navision Planet blog. In this post you will get consolidated list all the latest features available with October 2019 D365 Business central wave 2 release.
Following are the important features
Business Central New Keyboard Shortcuts
Following image shows full Business Central latest version (2019 Wave 2 Version 15) keyboard shortcuts..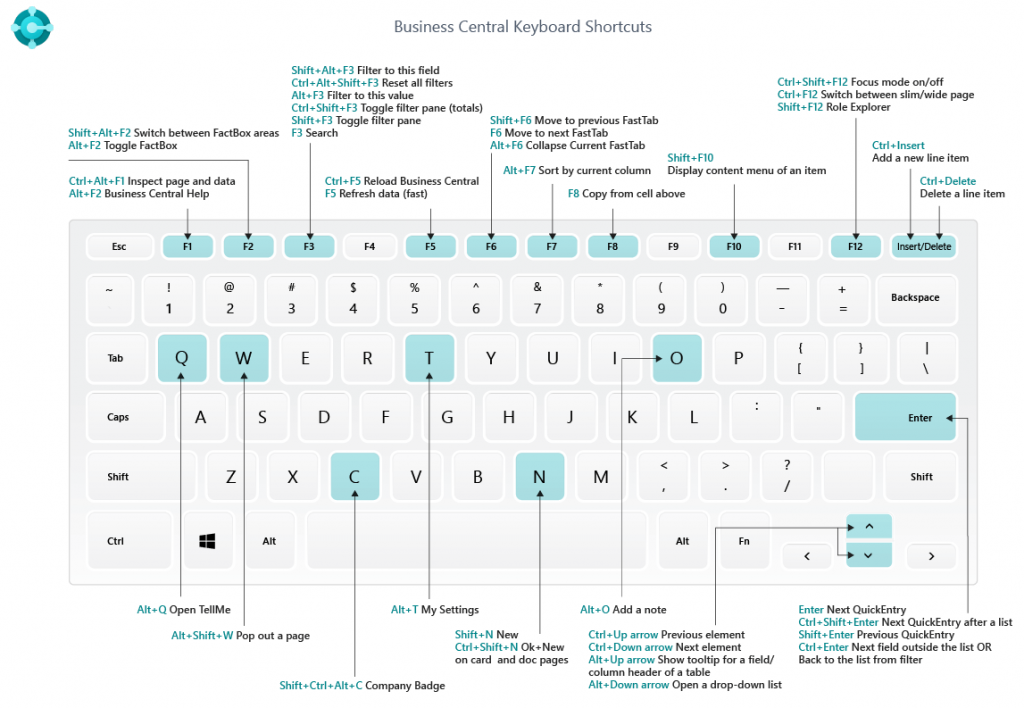 Business Central New Logo / Icon
From Business Central 2019 Wave 2 version icon got changed. New logo is as follows
Overview of all business features
Now you may explore what is available in individual module very easy by the help of module explorer.
Finding functionality becomes easier with a full overview of pages in the product based on the content of the various Role Centers. This makes it easier for users to navigate and find the right page, and it serves as an overview of Role Centers and their content. As a supplement to using the current Role Centers navigation bar, the command bar, or Tell Me, the new overview feature, Role Explorer, brings the different areas of Business Central closer to you so that you can stay focused and productive.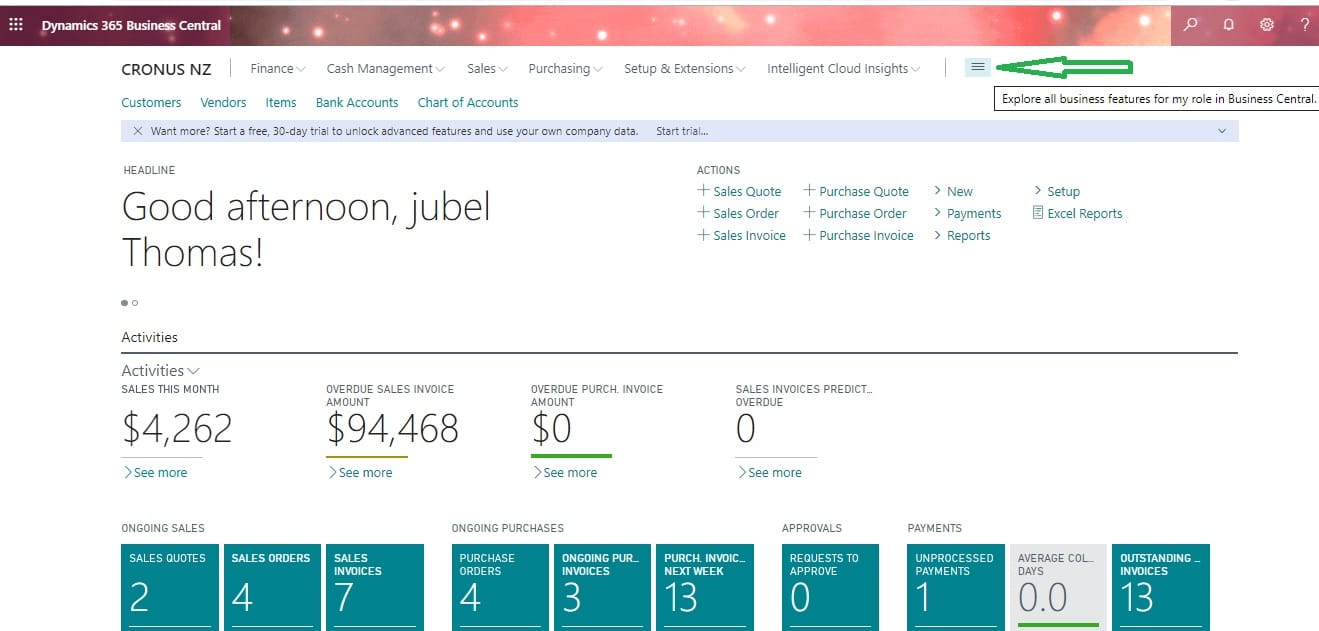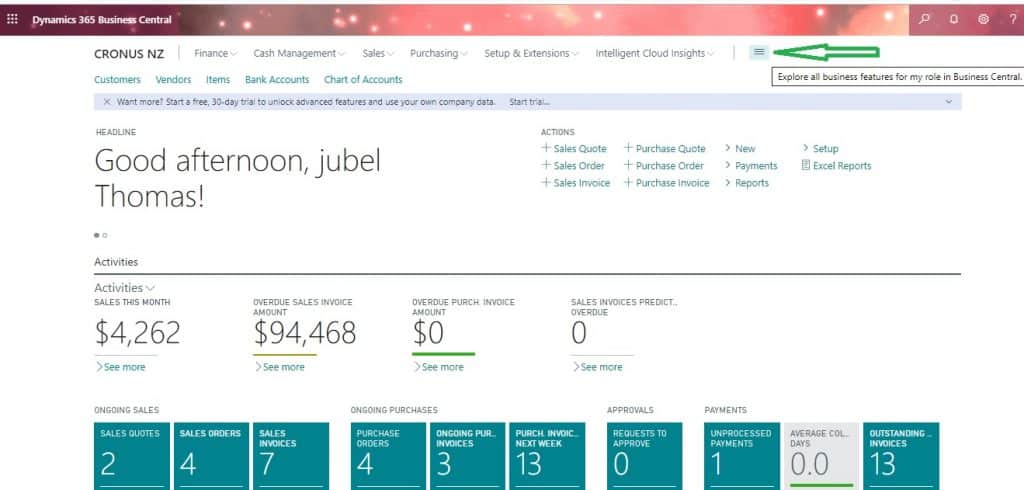 Identify the company by a badge / Label
By the help of this feature we can easily identify the purpose current instance. For example, if its a UAT database or Test Database or Live database, we can easily mention in the product.
Users can now use the Company Badge functionality to identify one company they work with from another. This is helpful when users have multiple tabs or pop-out windows open or when they are working with multiple companies on a daily basis.


I think all of them know this feature was exist on older Dynamics NAV systems as well, however during transition over Business Central this was missing. Now Microsoft once again added this feature on system.
How to show Company Badge / Label
To set it up, go to the Company Information page and choose your badge color and label.
Multiple production environments
Feature: Before Business Central wave 2 release there were no option to deploy multi country Cloud deployment online. In other words, earlier there were no multi production interface possible. But after this release its enabled. This resolved the issues like to deploy a company with one entity in USA and Another entity in Australia etc.
For each tenant, administrators can create multiple production environments. This will include the option for environments to be on different country-specific or region-specific versions of Business Central.
Book Mark Option Added
Feature: Now you may book mark any internal page you have repeatedly using on Business central in just a click. Once you done the same it will add auto link on your role center for directly navigation.
Resize columns with fewer clicks
Adjusting the width of any column just got easier. Without having to start personalizing, you can drag the border of any column header to resize it. Similar to Microsoft Excel, you can double-click the border (AutoFit) to automatically size the column so that the caption and value of all columns on the screen are displayed efficiently.
Save and personalize list views
Powerful filtering capabilities in Business Central accelerate work on lists by providing absolute control over which data is shown. The 2019 release wave 2 update eliminates the need to recreate commonly used filters by allowing users to permanently save filters as a view and combining personal views, system views, and those from extensions under one pane.
Saving a view
Users can now save filters in the filter pane as a list view with a recognizable name, such as "Items I own."
Save a new list view with custom filters on specific fields, on totals, and other calculated fields.
Fine-tune and perfect your views over time by saving changes to them.
Clone any system view by saving a personal copy that you can modify.
Easily rename and remove personal views.
Apply the full spectrum of filter expressions, ranges, and filter tokens (such as MyCustomers) to dynamically filter to the right data.
Quickly switch between different views of a list in the filter pane or from the command menu, no matter how you accessed that page.
Longer timeout period for the server connection
Earlier versions of Business Central online, the session timeout period was set to 20 minutes.
But now revised to 2hrs so that users are not asked to sign in to Business Central again and again.
Filter option fields by multiple values
Business Central Option Field Selection on Filter now available on filter option. This will trigger for all kinds option fields.
Links and Attachment In Business Central
Users can add internal notes to business data that is captured and processed in Business Central online and on-premises. Notes are shown next to the data in a restyled panel inside the FactBox pane.
All the FactBoxes there are now divided into two groups: Details (which includes all business-related FactBoxes) and Attachments (which includes notes, links, and document attachments). The groups are shown only when needed so there is no clutter on the screen.
Allow Non-Sequential Document Numbering
Feature : Now you can enable "Allow Gaps In Nos" on number series setup window.
By the help of this feature you may able to some number series in between document if required due to xyz reasons.
To improve system performance and to give users flexibility to delete records, you can set up a number series to allow the assigned numbers to not be in sequence.
Feature Description: On the No. Series Lines page for a number series, you can select the Allow Gaps in Nos. check box to enable automatic or manual assignment of numbers without requiring sequential numbers. This avoids potential performance issues that occur when the No. Series Line table is locked while the system creates and consumes a new number from a number series. In addition, it gives users flexibility to delete records, such as an obsolete bank account card, and thereby causing gaps in the numbered list of records.
Specifies that a number assigned from the number series can later be deleted. This is practical for records, such as item cards and warehouse documents that, unlike financial transactions, can be deleted and cause gaps in the number sequence. This setting also means that new numbers will be generated and assigned in a faster, non-blocking way.
Users can choose to mark number series to allow gaps in the series. These number series will be non-blocking, which will boost performance.
Selected non-financial number series in the application will be made non-blocking.
NOTE: If an error occurs on a new record that will be assigned a number from such a number series when it is completed, the number in question will be lost, causing a gap in the sequence.

Report Filter Enhancement
Filtering report data
The filter experience has been greatly improved with features like filtering lists that allow you to:
Add as many filtered fields as you like by choosing any field from the source table or typing to quickly find the field.
Get assistance with specifying filter values using look-ups and similar pickers, including filtering on multiple option-field values.
Create complex filters using operators, ranges, formulas, and filter tokens.
Business Central remembers the filters you applied and allows you to choose from report settings you made earlier.
Filtering totals
One of the most popular features of Dynamics NAV is now also available for reports. Reports often display aggregated or computed values through FlowFields, such as currency amount totals. With this release, Business Central allows you to apply filters to one or more dimensions that influence computed values.
Multi Selection Enhancement
Multi selection lines in a list enhancement announced.
Cancel Reminders and Finance Charge Memos
Feature: You can quickly correct mistakes during close-of-period work by cancelling issued reminders or finance charge memos.
Details:
Reminders and finance charge memos are usually created in batches—for example, at the end of the month—to remind your customers of due or overdue invoices. If incorrect information is detected during this busy period, you must be able to quickly correct such errors by cancelling issued reminders or finance charge memos.
Line descriptions Update to G/L entries when posting
Feature: When reconciling or auditing data, such as expenses, it is useful to see the source document line description in the general ledger entries.
Details: On the Sales & Receivables Setup, Purchases & Payables Setup, and Service Management Setup pages, you can choose the Copy Line Description to G/L Entry check box to define for sales, purchase, and service documents that the description text on lines of type G/L Account is carried to the resulting general ledger entries.
Configuration Template Enhancement
Feature: It is very important to have a consistent way of creating master data, such as customers, vendors, and items, while also defining how that master data is used in the system. This ensures that subsequent posting and reporting of the master data is consistent and transparent.
Details: Configuration templates now allow you to look up template fields' default values directly from related tables. This ensures that the default values that you select when configuring templates are correct when you use templates to create master data, such as customers, vendors, and items. You can now also easily find contact conversion templates that are used to convert contacts (prospects) to customers.
Copy Document function on blocked lines
Feature: Earlier this version copy document can't able to perform. For resolving this issue added new feature.
Feature Details: When using the Copy Document function to create new documents based on existing documents, you are now notified if any items or resources on the source document lines are blocked. The blocked document lines are excluded from the new document. The notification shows an overview of all document lines that are blocked in the source document.
Aged Accounts Payable added External Document Number field
Feature: The Aged Accounts Payable report is a tool for managing small business debt, planning your cash flow, and scheduling payments. It is important to have this information provided in a clear and flexible manner.
Feature Details: The Aged Accounts Payable report has a refreshed, modern layout. You can now analyze data in the Aged Accounts Payable report based on the External Document Number field.
Batch-post sales and purchases as scheduled
Feature: Posting a large number of documents at once can take a while, reducing productive time for your employees. Such processes usually can be scheduled for off-peak hours or simply processed as background activities, eliminating the need to process documents one by one and making users wait for processing to be completed.
Feature details: You can now execute batch posting only in the background to avoid having long-running processes interfere with your work. Potential issues that occur during batch posting of documents can be found on the Error Message Register page. You can find the results of batch posting (for example: printouts) in the Report Inbox on your Role Center.
Detailed notifications for update events
As an enhancement to the Business Central update process, tenant administrators now receive email notifications with detailed feedback when an environment update fails. This includes actionable information and next steps for when correcting the cause of the failure requires action from the administrator.
Report production outage in the Business Central Administration Center
Feature: Now if there is any support required on Cloud interface can able to take help directly from the link specified on the Administration area.
Once it is determined that the customer's tenant is down, you can quickly create a support ticket in the Business Central Administration Center. When you choose the customer's production environment, a new option, Report Production Outage, is enabled. This option is not available for a sandbox environment. If you choose this action, the available outage types are Unable to log on (all users) and Cannot access API/ Web Service.
Once selected, the other required fields are Name, Email address, and Phone number. The next screen allows more details about the outage such as the browsers tried, any companies they can sign in to, and error messages received. The last question is about the date and time the outage began.
After marking the consent box, select Report to create the outage. A support ticket is created automatically with all details. It can be viewed in the Reported Outages page in the Business Central Administration Center.
Data upgrade from C/AL tables to AL tables
As you know by the release Business Central wave 2 there will not be any C/AL coding to be carried forward. So we required convert all the coding as well table data from C/AL to AL. For the transition making smooth Microsoft provided new solution to upgrade table data from C/AL to AL tables.
Using the PowerShell cmdlet Sync-NAVApp, partners can convert all C/AL tables to AL tables with minimal database overhead and without the need to write any upgrade code. The command Sync-NAVApp -Mode BaseAppUpgrade renames tables on the tenant database to conform to the naming convention for AL tables. This corresponds to the technical platform upgrade for a tenant, bringing the table structure from the base application to the table structure for extensions.
Enhancements to Excel integration
When the user selects the Edit in Excel action from a list page, most filters set on the list page are applied to the list when it is exported to Excel. This also enables publishing changes back into Business Central from a filtered list of records in Excel.
Personalize actions on your Role Center
Personalizing the navigation menu includes:
Moving menu links to another position within the same group or a different group or subgroup.
Moving menu groups to another position.
Hiding menu links or entire groups.
Clearing your personalization, effectively returning the Role Center to its original navigation menu layout.
Personalizing Role Center actions includes:
Moving actions to another position within the same or different group.
Moving action groups to another position.
Hiding actions or entire groups of actions.
Clearing action personalization, effectively returning the Role Center to its original action layout.
Page background tasks
A page background task can run a codeunit (without a UI) in a read-only child session of the page session. On completion of the task, a completion trigger with the result is invoked on the page session.
If the page is closed before the task completes or the page record ID changed, the task is canceled
Additional features are listed below
Switch between companies in your business inbox in Outlook
Multitask across multiple pages
Customize user profiles without writing code
Enter data with speed and agility
Upcoming Business central Wave 2 Feature
Download a database export file
Feature: Cloud Interface Administrator will get option to download or export the database locally.
In the Business Central Administration Center, tenant administrators can create and download a database export for each environment for that tenant.
Enhancements for customer migration tools
After enabling ISVs to bring their solutions to Business Central online, the next step is to simplify the journey for existing Dynamics SMB customers using Dynamics 365 Business Central on-premises, Dynamics GP 2018 R2, and Dynamics SL 2018 CU1.
For the 2019 release wave 2 update, migration tooling for Business Central on-premises comes first, followed later with enhancements for Dynamics GP and Dynamics SL. The existing data replication tooling is based on Azure Data Factory. This update adds additional tables that are needed for the migration to be complete. The setup process remains the same, but there will be a rebranding component and additional tables added to support a more streamlined migration. The migration tool also supports migrating data from installed extensions by default, so a customer who has customized their Business Central on-premises application with extensions can bring that data with them to Business Central online without any additional effort.